Sporting Achievements
At William Read Primary School, we enjoy taking part in sporting events that are held throughout the year because we want to develop our competitive nature and team spirit.
Results will be detailed below as and when they occur.
District Sports
This event took place in July 2018 at Cornelius Vermuyden. All the children behaved well and enjoyed participating in the event. Many children were rewarded with individual medals for their achievements and the team competed well as a group. The children performed brilliantly and managed to finish in 2nd place overall. A fabulous achievement!
Dance Festival
On Monday 28th January, some Year 2 and Year 6 children participated in the dance festival held at The Palace Theatre in Southend. They used some zumba moves to perform to 'Dimelo' by Rak Su and did well to remember their steps. They were nervous but all enjoyed the opportunity to dance on a stage. Well done to all those who took part! A BIG thank you to Mrs Walker (one of our governors) for coming to support.
Swimming Gala
Children from Year 4 to Year 6 represented the school in the annual swimming gala held at Runnymede swimming pool in July 2018. They all tried their best and some pupils successfully earnt individual medals for their efforts. Well done to everyone!
Sports4Schools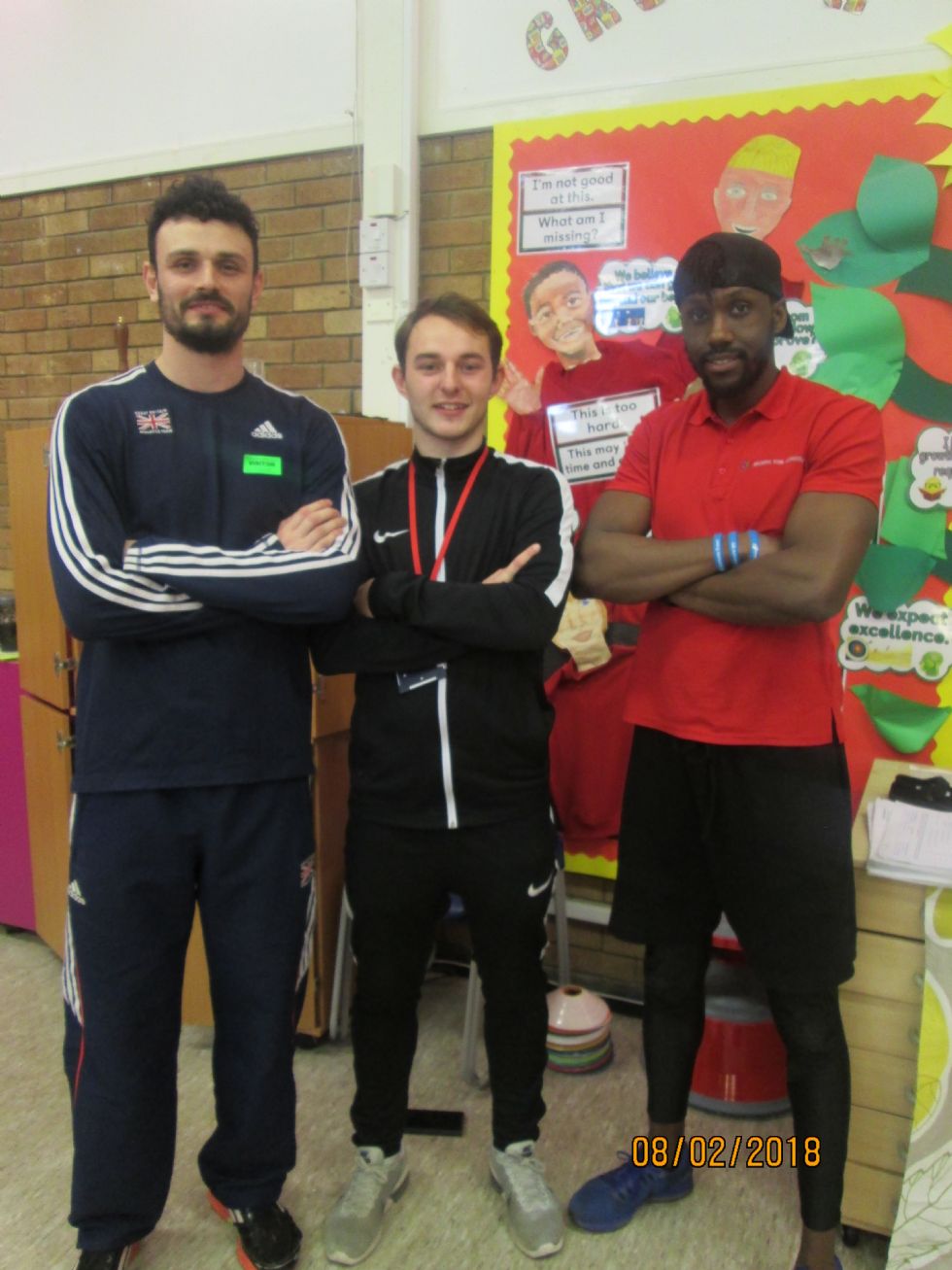 On Thursday 8th February 2018, the whole school (including the Nursery and reception children) participated in a sponsored event at the school. We welcomed Gianni Frankis (an international 110m hurdler who has represented Great Britain) who encouraged the children during the circuit sessions to persevere and keep going. They performed spotty dogs, star jumps, press ups amongst other activities in order to raise money for the athletic charity and for PE equipment for the school. Everyone had fun and enjoyed the experience. Well done to everyone who took part, including all staff members!
Mountain Biking
On Tuesday 20th February 2018, four boys and four girls from Year 6 participated in a mountain biking competition held at Hadleigh Park. The weather conditions were difficult and the children got pretty muddy, but they all had fun and competed well - even coming 1st and 3rd. Well done to all involved and a big thank you to Mrs. Walker (Vice Chair of Governors) for lending her help and support. The team won the overall competition and have now received a very special trophy to display in the trophy cabinet in the main reception. Every member of the team has also been awarded a gold medal for being part of the winning team.
Cross Country
On Friday 16th March 2018, selected pupils from Year 3-6 participated in a cross country event at The Deanes School in Thundersley. The pupils all got exceedingly muddy but they all tried really hard with their races and worked together to help others.
KS1 Winter Games
On Tuesday 11th December, a number of children from Year 2 participated in a Winter Olympic themed festival held at The Deanes School. They took part in many activities, some of which were: tri-golf, basketball, football and tennis. All the children were exceptionally well-behaved and had a fabulous time! Well done to all of those who went and a big thank you to Mrs. Walker and Mr. Green for their support and help with the event.